This week, we're excited to have our first guest blogger: Native Louisianan Mel Gerrets.  He's jazzed (see what I did there?) to share his favorite eats, drinks, and do's in his favorite city in the world: New Orleans aka NOLA aka The Big Easy aka Naw-lins.  Alright, enough fun for now, let's jump right in, take it away Mel!
5 Must Eats
Brennan's (Breakfast/Brunch) $$$ – Why not start with the end in mind?  You're going to New Orleans, you're going to have a hangover, it's just that simple.  Make sure you have the coordinates for this "hangover heaven" saved in your phone even before you head out for the night before!
Mother's Restaurant (Po-Boys) $$ – No one said that these eats would be healthy!  It's New Orleans forgodsakes.  Roast beef with debris might be your last meal.
Port of Call (Burger) $$ – Looking to start your night off hot?  Grab a burger and Monsoon (rum-based cocktail) at Port of Call and you'll be dancing on Bourbon street in no time at all!
Deanie's Seafood (Seafood) $$ – Deanie's is a NOLA establishment, having served absolutely HUGE portions of seafood for over 50 years. We recommend going with friends, each ordering something different and sharing family style here!
Muriel's (Dinner) $$$ – Ready to class it up a bit after a few nights on the streets? Treat yo'self in Jackson Square with a culinary experience that celebrates fine Creole cuisine among a historical ambiance.
5 Must Drinks
Pat O'Brien's Piano Bar (Hurricane) – How could you possibly go to New Orleans without visiting the place that invented the Hurricane.  Grab one and keep the glass so you don't forget!
Tropical Isle (Hand Grenade) –  The Hand Grenade is so well known in New Orleans that there have been million-dollar lawsuits protecting the trademark. Warning: Drink with caution.  Seriously.  Take it slow.
Gold Mine Saloon (Flaming Dr. Pepper) – Just like it sounds: This drink is on fire.  The Gold Mine Saloon is the perfect place to find a late night dance party.
Jean Lafitte's Blacksmith Shop Bar (Purple Drink) – Grab a Purple Drink from the Oldest Bar in America.  Built between 1722 and 1732, and filled to the brim with legends of smuggling, spies, and safe houses, there's no more historical place to drink in New Orleans.
Sazerac Bar at the Roosevelt Hotel (Sazerac) – Haven't heard of a Sazerac before?  It's time you did! Visit the birthplace of this distinctly New Orleans drink (and what many consider the first mixed drink) and grab one while you drink in style.
5 Must Dos
Bourbon Street – If you don't visit Bourbon Street at least once in your life, you aren't doing it right.  Walk the street during the day with a drink in your hand and catch some beads. A daytime walk is much better (and cleaner) than a nighttime one!
Frenchmen Street – Class it up one street over from Bourbon and head to Frenchmen for evening drinks and music at d.b.a, Spotted Cat, or Blue Nile.
Jackson Square/St. Louis Cathedral – Need to get that perfect Instagram pic.  Capture this quintessential New Orleans church, apply a killer filter, and voila, a cascade of likes will shower down upon you.
St. Charles Avenue Street Car – Too hot to hike around NOLA? Take the street car through the beautiful Garden District and Uptown.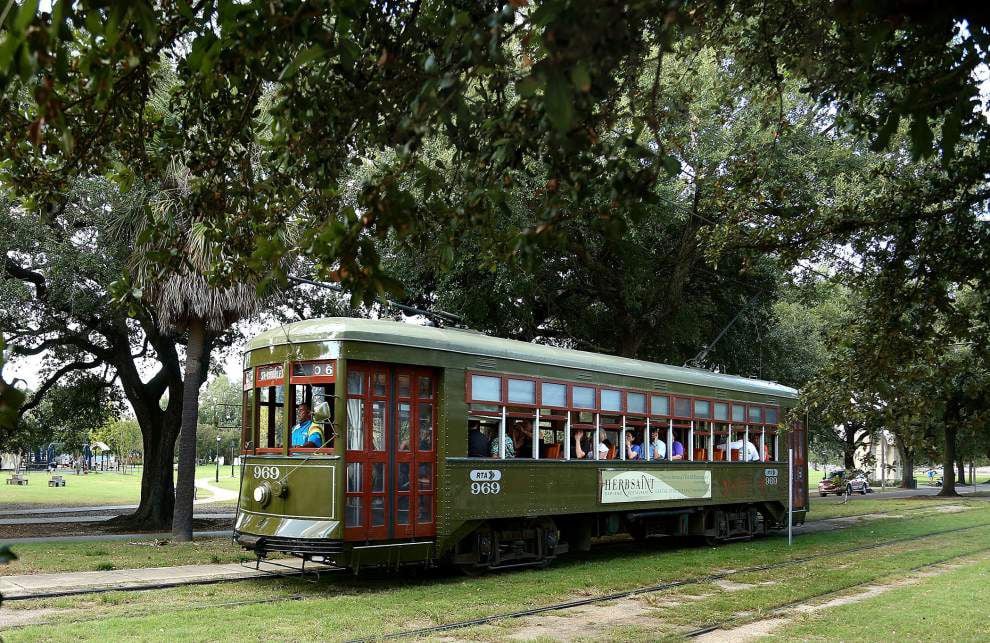 St. Louis Cemetery – Tour the above ground cemetery and witness a real Jazz funeral!
What are your NOLA favorites?
Share them in the comments or directly with Mel on Instagram!
---
If you're traveling, why wouldn't you travel with Airbnb?  We absolutely love it and haven't stayed in a hotel in over 3 years!
Get $55 on us by using this link to book your next trip.
P.S. if you really want to maximize your travel, become an Airbnb host!
Fund your travel by renting your place.
---